In her Meet The Team profile, Glossier's Digital Designer Nadine Head-Gordon had this nugget of wisdom to share: "I used to get eyelash extensions, when you essentially get synthetic eyelashes semi-permanently glued onto your real eyelashes. I wanted to look like Bambi. I was on a date with a guy and one of them fell onto my cheek, and he told me make a wish. So I made a wish on a fake eyelash. That was when I decided to get them removed." In our book, this makes her the office expert on the topic. So we coerced her to write us all a guide to share with the world. Because who doesn't want to have semi-permanent Bambi lashes, too?
Despite working at a beauty company, I am the laziest of the lazy when it comes to getting ready in the morning. In my ideal world, I would wake up looking exactly as I did the day before—this is why, for most of 9th grade, I slept in my makeup. That doesn't work and I don't recommend it.
Then in 2012 came the answer to my prayers: eyelash extensions. Similar to the ones you can get on your head, eyelash extensions are individual lashes, made of silk, mink, or something synthetic, that are attached to your existing lashes semi-permanently. If you've ever dreamt of waking up with Bambi lashes but without that ring of leftover mascara dangling a foot under your eye, this is your solution. Curious? At least a little? Good, so get off Google search—here's everything you need to know about getting eyelash extensions:
1. It's a very luxurious process.
Really—it's enjoyable. You lie down in a bed and close your eyes for an hour and a half while calming music plays in the background and a technician attaches little feathery nothings to your lashes. It's the most socially acceptable naptime a working adult could ask for. And if you're not already sold, most salons offer a complimentary massage while you're on the operating table.
2. Every lash extension experience is customizable.
When you're done, you will not end up looking like you just got a permanent strip lash attached to your lid. First, you can choose the length. Most salons will carry extension lengths from 9 to 15mm (or, from natural to Kardashian length). The sweet spot for most is 10-12.
After you pick your length, pick your curl. A "J" curl is for a more natural, awake look, while a "C" curl is a more dramatic, "I never leave home without my Shu Uemura Eyelash Curler" look. If you want to get creative, you can do "J" on the inner corners of your eyes and "C" on the outer edges for a more cat eye look.
Now, in terms of material, you have a lot to choose from: Faux Mink, Faux Fox, Silk, Real Mink, and last but not least, Real Human Hair. The differences between these looks are negligible so opt for the Faux Mink since it's the most affordable.
3. Eyelash extensions last longer than you think.
With proper care, I can get my extensions to last up to a month and a half. Most places recommend you come back every 2-3 weeks for a touch up, but if you're looking to save a bit of money, you can prolong their lifespan. Just be careful not to get water on your lashes and don't use oily products near your eyes.
4. Yes, you can wear makeup with them.
If you can't stand the thought of ditching your smoky eye, don't worry, you don't have to. Only liquid-based eye products can be damaging to the extensions, but you can get away with a tiny wing of liquid liner as long as you're not dragging it along the lash line. Make sure to carefully remove the shadow or liner with oil-free makeup remover and Q-tips for precision. Most importantly, stay away from mascara entirely as it leaves the extensions crusty and damaged. It's only acceptable if you're at the end of your cycle and will be getting a fresh set in a few days.
5. Extensions can ruin your eyelashes—but they don't have to.
That is, if you don't play by the rules. I am one of the many people who have made the mistake of pulling out the extensions myself–not only is it extremely painful but it leaves you with few to no natural eyelashes left. However, after what I like to call the intense "eyelash rehab" program of applying Vaseline to my lashes every night, my natural eyelashes were back to normal after a month and a half.
6. The only way to get rid of them is to get them professionally removed or have them fall out naturally.
Having the extensions removed is as easy as having them put on–painless and relatively quick. Every salon will have this service available. If you're not looking to spend any more money, however, the extensions do fall out with the natural shedding of your lashes. This is a much slower process, but it is $free.99, so there's that.
how to remove eyelash extensions
1. Use an oil-based makeup remover.
When it comes to removing eyelash extensions, most of the "dont's" your lash technician shared with you after your application are now encouraged, and that includes using an oil-based makeup remover. If you don't have one handy, try IPSY-fave SUNDAY RILEY C.E.O. C + E Micro-Dissolve Cleansing Oil, which is tough enough to break down makeup and waterproof mascara while also delivering a nourishing dose of vitamin C and vitamin E that offers much-needed protection. "Glycols, which are used in cosmetics as solvents, have been shown to dissolve adhesive bonds," says Ciulei Marin. Daily use of an oil-based cleanser can help weaken the bonds of the eyelash glue.
2. Take a hot shower.
Another major no-no when a new set of lashes is applied? Hot water. While hitting the showers might not be as effective as it would be when the lash adhesive is still setting, a long, steamy shower can help loosen the eyelash extension glue. "Two known enemies of lash adhesives are heat and moisture," says Ciulei Marin. "Alone, and especially together, these elements can dissolve cyanoacrylate when applied in large enough and intense enough quantities."
Just like using an oil-based cleanser, you shouldn't expect to see all of your lashes fall off after one hot shower. "If a good quality adhesive is used, it will take a lot of steam and hot water to affect the lifespan of the eyelash extensions," says Ciulei Marin.
3. Try using castor oil.
If you're desperate to get your lashes off, you can use castor oil as an overnight treatment to dissolve the bonds as you sleep. "Oils that have been shown to weaken extension adhesives are mineral oil, vegetable oil, coconut oil, canola oil, and castor oil," says Ciulei Marin.
After you remove all your eye makeup, coat a spoolie or a q-tip in castor oil and brush it on your lashes during your evening skincare routine. "Rub the swab or spoolie along the top of your lash line where the extensions are bonded, taking great care to not allow any of the oil into your eye," says Ciulei Marin. If oil does enter the eye, be sure to wash it out immediately with water. While castor oil is generally safe, it's best to do a spot test on your skin before applying it to your face.
4. Don't pick or pull at your lashes (fake or real).
Even if you've tried the above tips and are still stuck with one random lash, resist the urge to reach for the tweezer, because you could wind up leaving your natural lashes severely damaged. "Picking at your lashes would be the worst possible thing you can do," says Richardson. "This will result in bald spots throughout the lash line. The extensions are attached to the natural lashes, therefore picking on the extensions will take the natural lashes along with them."
Not only can pulling and picking leave you with sparse lashes, but repeatedly doing so could be extremely detrimental. "Constantly pulling off your eyelashes could result in extreme follicle damage, which could result in irreversible damage," says Ciulei Marin.
5. More mascara.
Instead of picking or pulling, you can try to conceal remaining lash extensions with lengthening mascara and eyeliner. "Using a good black liner on your upper lid will mask those stragglers right up," says Ciulei Marin. Not only can mascara help blend stubborn extensions that seem to be holding on for dear life, but using mascara on a daily basis can also help weaken the adhesive keeping the extensions attached to your actual lashes. "I know that bras and mascara are the two most unused things in this lockdown, but my tip would be to put mascara on every day," says Ciulei Marin. "Most mascaras are loaded with waxes and oils so it should make them come right off in about a week of using it." To really speed up the process, reach for an oil-based makeup remover to gently remove your mascara at night.
6. Be gentle.
Once your extensions have fallen out, be gentle to your natural eyelashes–especially when applying or removing makeup. "Try not to put too much pressure on the lashes or eye area and avoid vigorously rubbing," says Ciulei Marin. Instead, nourish and strengthen the hair with an eyelash serum and try these tips if you want your natural lashes to look longer.
Although waiting for eyelash extensions to grow out isn't ideal, these expert tips can help fake lashes fall out faster on their own without damaging your real lashes until you can make it to the salon.
natural eyelash extensions
What is the secret to natural looking eyelash extensions? (Ones that make people go, "What mascara do you use?" not "Where do you get your lashes done?"
On almost a daily basis at Lady Lash new clients ask us whether they can have eyelash extensions that look genuine and natural, and not fake or like stick-ons. The answer is, of course! One of our specialties is natural looking eyelash extensions – and below is some information on how we achieve the natural look.
When you come in for your consultation – do ask us for something natural (if that's the look you're after), but also ask what the technician recommends for you. At Lady Lash, we will give you a proper consultation, as different lashes suit different faces and everyone has particular styles and looks that they are comfortable with. Your technician will be able to 'design' lashes that are perfect for you and give you a beautiful enhancement without being over the top.
It's helpful to be able to look at some photos first. I've found over the years, people are all very individual in taste and opinion on what is 'natural looking beauty'. A reputable eyelash salon should always be able to show you some photos, so you can point out what look you are trying to achieve. We have various look books that show different styles of people of all different ages, complexions and facial shapes. Or you can view our online galleries
Personally, I would always choose silk or faux-mink over synthetic, to create a natural look. Softer and more flexible, less stiff and plasticky looking, they usually last longer as well. It may take more of them to create the dramatic look of synthetic lashes though, which some people do love. The faux mink lashes that we use are even finer than the silk ones, creating an even more natural, soft look.
High quality materials and extreme skill are important in creating natural looking eyelash extensions. We source the highest grade lashes and adhesives to ensure the lashes are light, flexible, sturdy and long lasting, yet incredibly soft. Our technicians are amongst the most experienced in the country, with many having over a decade of experience purely in eyelash extension application.
Glamorous natural looking eyelash extensions?
If you're looking for volume and density, but want extensions that look like you could possibly just be genetically blessed in the eyelash department. I would recommend the Russian Volume Sets where over 200 extremely fine extensions are applied per eye. This is a relatively new style and is gaining popularity. Only a handful of salons in Sydney do Russian volume eyelash extensions, as it is an advanced technique and takes more time than classic lashes. They are absolutely beautiful though, and are very long lasting eyelash extensions.
To widen very close-set eyes, I would recommend a half set with ends that are a little longer and fanned out. For eyes with a rounder shape, we wouldn't use an extreme curl, because it can give the wearer a 'surprised' look. It's always best to not go too long as well, if you're aiming for 'au natural', as very long extensions usually end up looking tacky and messy and are much harder to maintain.
Most importantly, we would consider your facial structure and complexion, and your overall 'look'.  The type of eyelashes that look 'natural' on a tanned, dark haired 20-year-old brunette will probably not look natural at all on a mature aged blonde with paler features. You really have to tailor the lashes to the person. We are trained to do that – to look at the whole picture, your face and eye shape, makeup style, complexion – to work out what type of lashes will look the best and suit your lifestyle.
classic eyelash extensions
Lash extensions are the perfect way to accentuate your eyes. Unlike traditional falsies, classic lash extensions are worn daily without having to worry about them falling off. Classic lashes provide you with the length, volume, and curl you've always wanted. This technique is ideal for clients with thick lashes who want to highlight their natural fullness. These lashes are effortless, natural, and can be coated with mascara for an even brighter look.
Classic lash extensions are the original style that is still very much favored by our clients. The process requires that a single extension be applied to one natural lash. As with all our services, we ask that you come in with a clean face, that's free of makeup. The process will last anywhere from 1 to 2 hours, during which you are welcome to take a nap.
BENEFITS OF CLASSIC LASH EXTENSION
NATURAL & LENGTHENING
ACCENTUATE AND COMPLIMENTS YOUR EYE SHAPE
LASTS UP TO 4 TO 5 WEEKS
SAVES YOU TIME ON MORNING ROUTINE
HYBRID EYELASH EXTENSION
You want length, volume, perfect curl, and the natural fullness altogether? The Hybrid technique combines two styles of application, allowing the definition of classic lash extensions along with the volume of other styles. Other names for the Hybrid Lash style are: Kardashian Lashes, Combination Lashes & American Volume Lashes.
BENEFITS OF VOLUME LASH EXTENSIONS
BENEFITS OF HYBRID LASHES
PLUMP VOLUME AND FULL LENGTH
NATURALLY ACCENTUATE AND COMPLIMENTS YOUR EYE SHAPE
LAST AND AVERAGE OF 4 TO 5 WEEKS
YOU NEVER HAVE TO BUY MASCARA AGAIN
VOLUME LASH EXTENSIONS
With our set of volume lashes, you are getting a thicker, more dramatic look. These lashes have a fluffy and full appearance. Depending on your preference, we can provide you with both a natural or glam look. Volume lashes are perfect for eyes with sparse natural lashes or for those who simply want to change up their look. Our extensions are soft, feathery, and lightweight meaning the level of fullness can be adjusted to the client's wishes without ever feeling uncomfortable.
The process involves applying multiple lashes to a single natural lash. All we ask is that you come in with a fresh, clean face free of makeup. The application takes 1 to 2 hours, so be prepared to sit back and relax while our highly trained lash professionals work on your lashes.
BENEFITS OF VOLUME LASH EXTENSIONS
A FULLER APPEARANCE
LIGHTER & FLUFFIER
COMPLETELY CUSTOMIZABLE
LASTS UP TO 4 TO 5 WEEKS
eyelash extension kit
Everything needed for eyelash extensions, all in a lockable case. Includes: Big Beauty Lashes Adhesive, Big Beauty lashes adhesive remover, J curl lashes, 15mm x 11mm, straight tweezers, curved tweezers, scissor, Jade stone, 5 Gel pads, comb/brush, mini fan, 15 micro swabs, 15 cotton tip applicators, 3m tape, 6 alcohol prep pads, 1 set training lash tips, lash pick-up pad, instruction manual all in a lockable small case.
how long do eyelash extensions last?
Although there isn't much you can do to stop your natural lash shedding cycle, there are a few steps you can take to get the most out of your eyelash extensions. We asked the co-founders of Nouveau Lashes (who offer some of the most extensive lash extension treatments out there) for some tips on how to extend their life span. Here's what they suggest:
"For the first 48 hours after your treatment, it's important not to allow water to come into contact with your lashes," explains Bridgette Softley, noting that water will reduce the efficacy of the adhesive used to keep the individual lashes in place. The same stands for anything that has to do with steam: "For two days afterward, don't steam your face, use a steam bath, swim or wash your face with hot water," Karen Betts adds. You should also avoid oil-based cleansers and moisturizers because these, too, have the ability to break down the lash adhesive.
The experts also warn against using anything to enhance the curl of the lashes. "Never try to perm or use lash curlers on your extensions," Betts explains, as these sorts of procedures are too traumatic for the delicate lash extensions to handle. And finally, make sure you brush through your lashes every single morning with a clean mascara wand to keep them looking their best.
eyelash extensions before and after
A picture's worth a thousand words, especially when it comes to eyelash extensions before and after pics! If you're trying to decide between a soft natural classic look and a more dramatic look, we've compiled this expert roundup of eyelash extensions before and after pics portraying a variety of lash extension sizes to facilitate your research.
Keep in mind that in order to achieve the best look and results for you, it's important to first consider your eye shape, natural lashes, and daily makeup routine. Your certified Lash Artist should be able to guide you through your eyelash journey in finding a personalized look for you. You are unique and so should your eyelashes be!
Check out these eyelash extensions before and after pictures for different eye shapes and lash types.
Longer, fuller and luscious lashes. Photo credit: Instagram user @lashes_by_alaina, a certified Lash Artist at Flutters Lash Studio in Oklahoma City, OK.
A volume full set for a fully dramatic look. Photo credit: Instagram user @lashes_by_cass, a certified Lash Artist at Extensions by Cassie, a lash salon in San Diego, California.
Hybrid lashes, a mix of classic and volume lashes. Photo credit: Instagram user @asheslashes.and.aesthetics, a certified aesthetician and Lash Tech at Ashes Lashes & Aesthetics in Welland, Ontario
If fluff is what you're looking for, volume lashes are the way to go! Photo credit: Instagram user @amazinglashstudiomassapequa, a lash studio in Massapequa, New York.
A Classic lash can do wonders! Photo credit: Instagram user @nikki_bellalash, Director of Education at Bella Lash, an eyelash extension company in Vineyard, Utah.
Another Classic set applied to open up those gorgeous eyes! Photo credit: Instagram user @makeupbymariaelisa, a Certified Lash Technician at Makeup by Mariaelisa, a lash salon in Philadelphia.
If you prefer a natural look, a lash lift might be a great option for you. Photo credit: Instagram user @estheticsbyamy, an esthetician at Curly Willow Spa in Richmond, Virginia.
A partial set makes for a subtle yet beautiful transformation. Photo credit: Instagram user @ninak_beauty, a Lash Artist at Melt by Melissa, a facial spa in Scottsdale, Arizona.
Looking fabulous, doll! These D curl lashes will give you the popular "Doll" look and add a touch of drama to your eyes. Photo credit: Instagram user @drenchdayspa, a premier lash and brow studio in Ridgeland, Mississippi.
Enhance the natural shape of your eyes. Photo credit: Instagram user @ashleyelizabethbeauty, Lash Expert at Ashley Elizabeth Beauty, a beauty salon in Los Angeles, California.
how much are eyelash extensions ?
Lash extensions range in cost, depending on the type of material used. But generally, an initial full-set lash application will cost somewhere between $150-$200. Monthly maintenance and refills, however, will run anywhere from $55-$65 per session. Mink lashes—reportedly the only type Beyoncé wears—typically cost $300 for a full set. Luckily, you can snag a full mink set on Groupon for as little as $72 and silk and synthetic for even less.
Eyelash Extensions Pros & Cons – Are They Right for You?
Eyelash extensions can be a beautiful, albeit expensive, way to enhance your natural eyelashes without mascara or strip false lashes. These individually applied lashes can look surprisingly natural. With the exception of the expense and the appointment time, it means waking up each morning looking fabulous.
Other than the doctor-prescribed Latisse®, most cosmetic products claiming to grow lashes don't work. And although there are great mascaras, they rarely, if ever, perform like the ads say they will (just look a little closer, the women in almost every mascara ad have false eyelashes on.).
Paula became intrigued when she saw a friend of hers wearing these extensions, and had to try it for herself. We explain the pros and cons she experienced so you can decide for yourself if lash extensions are for you.
What are Lash Extensions?
Lash extensions are individually applied synthetic or natural hair fibers attached to the base of each eyelash with surgical glue. Each fake lash is applied one by one (it's a painstaking, time-consuming process) to your own eyelashes.
If you are very, very careful in how you take care of your eye area after having lash extensions applied, and have touchups every two to three weeks, your lash extensions can hold up pretty well. But straying from the guidelines can cause a mess, with the lashes coming off sooner than they would have otherwise.
Subsequent appointments after your initial application is mandatory for maintenance. How often you need a "fill" depends on your own natural eyelash growth cycle and on how well you take care of your lashes. Taking care of your lash extensions is a big deal.
Before You Book Your Lash Extension Appointment
If you decide to give this a try (and the result can be gorgeous), you need to follow these guidelines to ensure your experience goes as smoothly as possible:
Research your lash professional. It's best if your lash technician is professionally certified and trained in an established method of application. Don't be embarrassed to ask about credentials; the best ones will be proud to show you their work.
Choose your look carefully,just the way you choose a hairstyle by looking at pictures. Most lash technicians will walk you through this. There's a fine line between gorgeous, fluttery lashes and spidery, obviously fake-looking lashes.
Understand there are potential risks although they're rare. The most common complaints about lash extensions are allergic reactions to the glue, eye infections from contact with unsanitary tools, or an infected follicle from two lashes being glued together, and/or from the glue itself clogging a hair follicle.
Understand the process. Applying a full set of new lashes can take anywhere from 90 to 180 minutes. Depending on the look you want to achieve, anywhere from 60–120 individual lashes will be applied to each eye. To prepare the eye area for extensions, your lash technician should be taping your lower lashes down to your skin, and placing hydrating eye pads on top. This is done to prevent the glue from getting on the lower part of your eye as lashes are applied.
Eyelash Extensions Pros and Cons
As with any beauty treatment, there are pros and cons to consider before deciding if it's right for you. With lash extensions, the positives and negatives are almost equally weighted, though you'll rarely hear the downside in a salon that provides this service. Here's what you need to know to make an informed decision:
Pros:
They look fabulous. More dramatic than mascara, yet far more natural than a strip of (or individual) false eyelashes, lash extensions are simply stunning when done right.
They're instantly gratifying. Lash extensions deliver the gorgeous lashes you want with one appointment, and you won't have to bother applying and removing mascara every day, or worry about mascara flaking, running, or smearing.
They can save you time. Some people say that because lash extensions look just as good if you aren't wearing makeup, you can forego this time-consuming step in the morning. We're not convinced about this as you still have to find the time twice a month to get the extensions filled in, so it more or less evens out.
They can last for months and beyond.
Typically, lash extensions stay looking good for 2 to 3 weeks, but beyond that, all of them will gradually fall out on their own. However, with regular fills, your overall lash extensions will last indefinitely.
Cons:
They're expensive. Expect to spend anywhere from $150 to $500 (yes, that much) for your first full set of lashes. From there, refills (typically needed every 2–3 weeks) cost $50–$100 per visit. If you do the math, that's anywhere from $1000 to $2500 per year spent on lashes.
They're high maintenance. Your lashes will need extra attention to look good between fills because preserving these expensive additions to your eyes should be the goal.
Do not use oil-based cleansers and makeup removers as they cause the glue to breakdown.
Avoid using mascara over them because removing it can snag the extensions, causing them to fall out prematurely.
You must be careful when washing your eye area as any movement of your lashes will increase the lash falling out or getting twisted around.
Do not let water from the shower fall directly on your face as the pressure will make the lash extension loosen and shed faster.
Do not rub your face with a towel or press your face too hard into the pillow when you sleep.
Use a dry mascara wand (your lash technician will give you one) at least once a day in the morning or several times during the day, as needed, to comb through your lashes and gently straighten them out, especially if they get wet. Careful! If you tug to much they'll loosen and fall out. The extensions easily get twisted around from sleeping positions and after washing your face and they can start looking really odd.
Be careful how you apply makeup. Avoid oil-based skin care products around the eyes as well as greasy eye pencils and concealers as they will breakdown the eyelash glue. Also avoid applying heavy eyeliner as removing it tugs at the lashes, resulting in more fallout. Use a cotton swab dipped in makeup remover to take off makeup at your lash line.
The more dramatic the lash, meaning thicker, the more likely it is to get twisted and fall out earlier than you want.
Eyelash Extensions Before and After
Lash extensions can be worth the money, but they're definitely not for everyone. It really comes down to your budget, time allotment, and compliance with the guidelines as these aren't easy to maintain. Following our advice will help increase your chances of getting great results.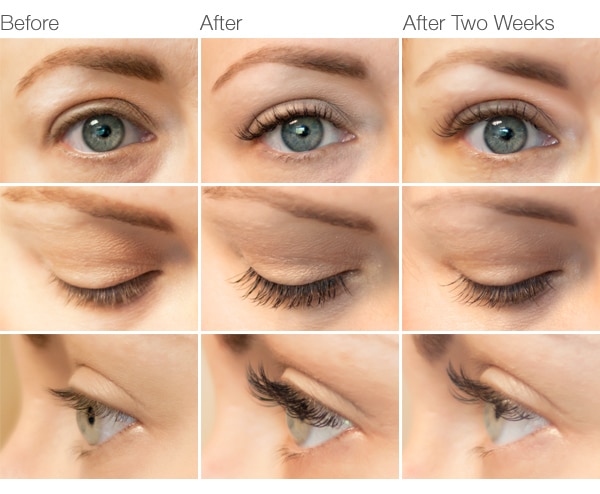 Read more :