Sleep in the middle of the dunes of the Merzouga desert in Morocco
I spent 3 absolutely intoxicating days in the sandy desert of Merzouga in the south of Morocco! I am going to tell you what I lived, what I felt as well as all the practical information so that you can live the same experience.
Visit and easily discover the Moroccan desert
Discovering the desert immediately seems very complicated! We tell ourselves that you have to be very equipped to prepare it months in advance and that it takes several weeks to get there. Good news: the Merzouga desert in the south of Morocco is easily accessible : a few hours in 4 × 4 from Errachidia are enough to reach me with magnificent dunes as far as the eye can see.
One can easily and sleep : the local Tuareg families have built small camps in the middle of the dunes to welcome visitors (it's discreet and they blend in well with the landscape).
The advantage of the Merzouga desert is that it is big enough to have the feeling of being in a big desert, without being excessive and as hostile as the Sahara… much more complicated to explore.
What is incredible is that from France a stay of 4 days is enough to discover and sleep in the desert. Obviously I highly recommend that you spend at least a week in the region or integrate it during a trip to Morocco.
If you are interested in visiting Marrakech , I recommend my article on the subject!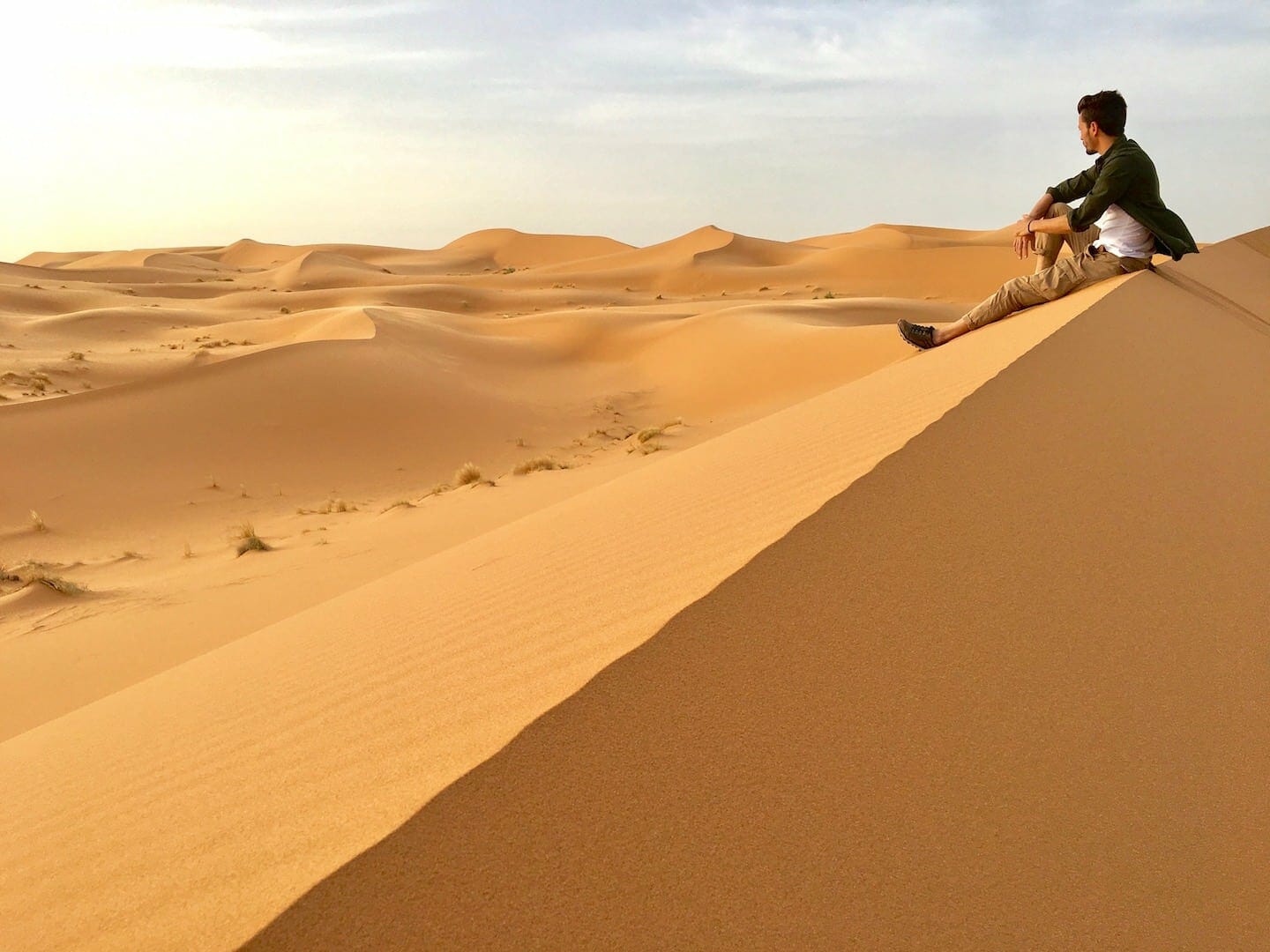 How to visit the desert and the dunes of Merzouga?
The summary itinerary of my trip
If you are arriving directly from France:
Day 1
Day 2
4 × 4 Errachidia -> Merzouga Desert
Bivouac and night in the Merzouga desert
Day 3
Day and discovery of the desert: sandboarding, camel ride, Tuareg tent assembly
Evening and night in the desert
Day 4
4 × 4 Merzouga Desert -> Errachidia
Flight Errachidia -> Casablanca ( see flights )
Flight Casablanca -> France ( see flights ) or (depending on the time possible on site) Night in Errachidia and return to France the next day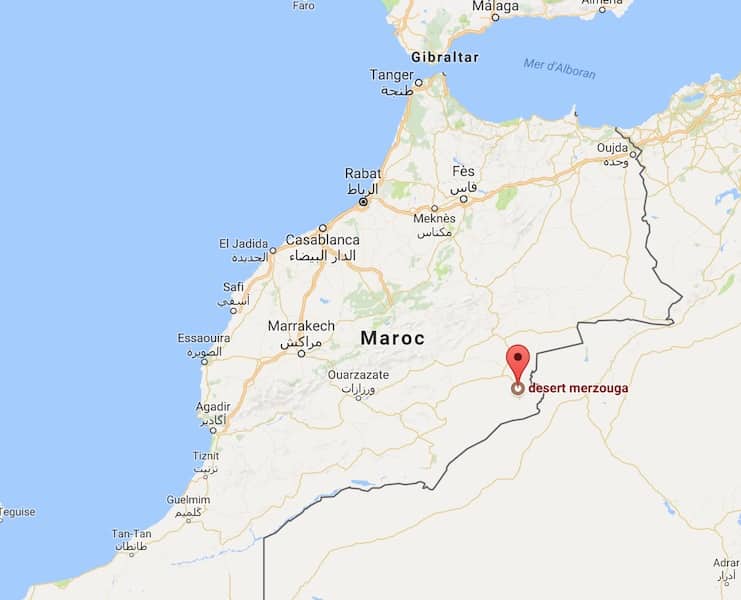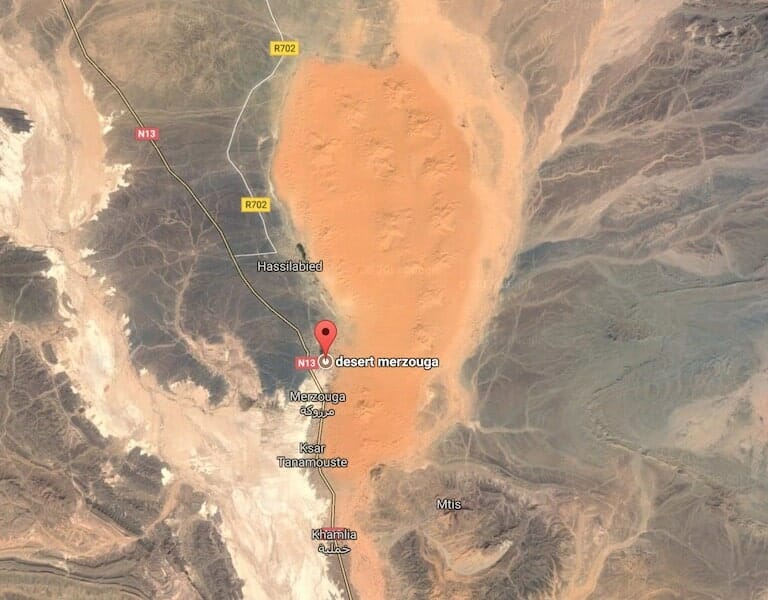 My opinion on the Merzouga desert
Unlike an expedition to the Sahara with immense desire, a stay in the Merzouga desert is :
Easy to organize
No need to do it months in advance
We can do it for a long weekend (vs several weeks in a real expedition in the desert)
Easily accessible by 4 × 4 but far enough away to feel totally out of place
It is very affordable in terms of price: there is something for all budgets. From the small rather basic and very affordable camp to the luxury camp, tent with toilet etc …)
What I especially liked is this feeling of appeasement and being cut off from the stress and frenzy of everyday life . Small detail that made me feel good: there was neither wi-fi nor 3G. We are so adept at our phones that sometimes we have the reflex to look at it during the day even in incredible settings. There at least it does not capture so we feel present here and now!
What accentuates this soothing rhythm and this sweetness of life are the Berbers who manage the camp. They are at the same time very kind, courteous and welcoming but relaxed and cool. It must be strange to them to welcome people who are compared to them with electric batteries that have come straight from big cities. But it doesn't seem to upset them more than that! I think the dunes absorb people's stress like nothing else can.
Two days may seem short, but ultimately when you are cut off from the world living in the moment and enjoying simple things like drinking tea, walking up a dune and talking with the Berbers (most of them speak a little French), we have the impression that time is lengthening and turning into a week.
In short, I loved finding myself in this "little" desert which did me the greatest good to recharge my batteries. But above all, it allowed me to see something that I had been waiting for for years: sand dunes as far as the eye could see! Best of all, there was a mountain range with black rocks as a backdrop that defines the natural border with Algeria.A pretty mind-blowing decor… especially when you wake up with a small cup of tea in your hand!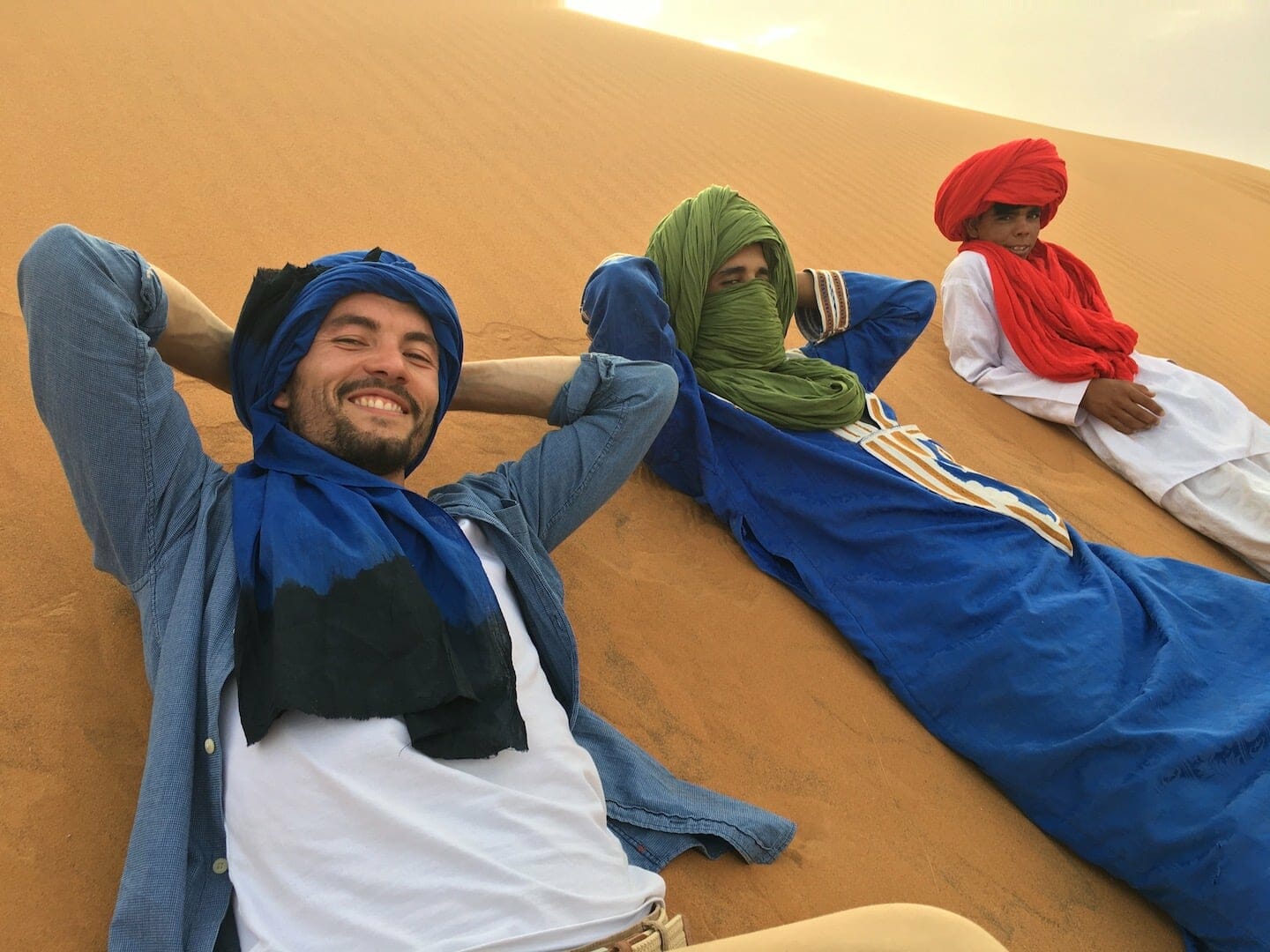 Organize your tailor-made trip to Merzouga in Morocco!
If you do not have the soul of a Backpacker like me but you want to visit the sandy desert of Merzouga in southern Morocco in a more organized setting. I have what you need !
The Evaneos agency will help you organize your trip (you can even tell them that it's coming from me).
He usually takes care of all the organization of your trip, including plane tickets, drivers and also their local French guides such as Yasmine and Houda .
If you want to travel to Morocco , take a trek in the desert or in the Atlas with an itinerary prepared in advance with accommodation reservations already made so as not to bother you, I advise you to go through the agency Direct Trace . It is an agency that supports sustainable and responsible tourism , it works directly with locals without intermediary and tailor- made according to your desires.
So if you want to discover this magnificent country that is Morocco with a pre-established guideline, while going off the beaten track and being in contact with the local population, I strongly recommend that you ask them for a quote .
My itinerary & detailed activities during these 4 days in the desert of Morocco
Day 1
Route France -> desert
It's the kind of transit where you leave France in the morning and arrive in the desert in the evening. A lot of people don't like to take flights and transport together, it gets them drunk… I love it! When I move forward, I feel alive!
Moreover, when you arrive on the tarmac at the small Errachidia airport, it immediately gives you a glimpse of what to expect: roots, simple authentic! We then spent the night in the Rilhade XXXX at the gates of the desert. A little comfort and luxury before the dunes and the sand, it's never unpleasant!
If you want to spend a night through the Merzouga desert or even do a 3/4 day safari I recommend you to watch these tour operators and you can book directly online a night in a tent , a camel ride or the famous safari .
Day 2
Souk of Errachidia
In the morning the drivers / guides joined us with their 4 × 4 and the necessary equipment if needed (water, gasoline, etc…). But that, it is they who managed, they are used to it! Before leaving for the desert, head for the souk. I really liked the Errachidia souk because there are hardly any tourists, it is really authentic and we can see that it serves as a real market for the locals (before being a tourist place for visitors).
I take this opportunity to buy myself a scarf , moreover I got caught up on the price, I was not yet ready for the negotiations I had just arrived !! In these countries, it is a tradition to negotiate, especially in the souks. I also bought date paste because the Errachidia region is the region of Morocco where they produce the best dates. A kilo of top-quality dates cost me € 2. There, I had asked one of the Moroccan guides to come with me for the purchase, suddenly it was easier for the negotiation 🙂
Take a tailor-made guide for your trip to Morocco!
If like me, you're a bit old-fashioned and you like to travel with a paper guide to be sure you have all the information and good addresses of Morocco , without being hung up on your phone all the time, I recommend them. Lonely Planet guides .
I have been traveling with Lonely Planet since I started traveling and when I go on a long trip I always have one with me. Personally, I prefer Lonely to Routard because the content is more complete, the layout clearer and the maps 10x better . They just tend to find everything cool and take less part than Routard… which has a grumpy editorial tone that I'm not a big fan of.
If you want the good recos / addresses for Morocco from Lonely without having to carry around the paper guide, they even have the guide in PDF format .
Road to the desert
Then it's my favorite moment when we cross the desert by swallowing the track outside the asphalt roads to reach the camp. It's flat, it's arid, it's rocky and the colors range from very light yellow to very dark black. We sink a little more towards nothing, towards calm. Everyone in the car is looking ahead, staring into space.
Arrival at camp
The 4 × 4 arrives at the top of a dune, we see small white mushrooms in the hollow of four or five other huge dunes: those are the tents that form the camp. Tradition obliges us to be greeted with a very hot and very sweet mint tea . The tents are arranged in a square facing each other and in the middle there are large carpets. After tea and leaving my things in my tent, like any curious person at least, I think it is impossible to resist the urge to go to the top of a dune to enjoy the exceptional panorama and the silence … So that's the feeling of the desert: appeasement, tranquility and distance
Berber tent assembly
The guys from the camp saw that I was a little hyperactive and to be very nice and keep me occupied, they showed me (I also participated a little) how they set up their little Berber tents. This is what they use for small bivouac tents or taking a break in the sun.https://www.instagram.com/p/BUYzzw-gjmc/embed/captioned/?cr=1&v=7&wp=613&rd=https%3A%2F%2Fwww.vizeo.net&rp=%2Fvisiter-dormir-desert-merzouga-maroc#%7B%22ci%22%3A1%2C%22os%22%3A106680%7D
Day 3
Sunrise over the sand dunes
Sunrises are among the most beautiful things you can see around the world. The problem when you love to sleep like me is that it always stings a lot! But the colors were very beautiful despite an overcast sky. So I can't even imagine when the sky is really clear.
Camel rides
We continue with a camel ride. It is the first time that I am riding a dromedary. It is certainly one of the most unusual ways that I have used to get around. Yet I used strange means of transport. We have the impression that they are a little silly animals, but in the end I find that these are the most intelligent mounts for one main reason: if there is not someone like them who is on foot, he stretches , they do not advance! Rather clever !! Basically either "there is one who is in the same boat as us" or "we are not moving forward! ".
They are quiet animals that are fairly gentle, which I find go perfectly with the atmosphere of the desert! Personally the more it goes the more I have trouble with the enslavement of animals . Yet I am a rider and have been a regular rider for years. But this is part of the ancestral traditions so I did not refuse.
Sandboarding
I'm clearly not a rider or an awkward guy with all board sports… To my dismay. I think these guys are really classy. They instill a feeling of freedom that I really like. So even though I'm not good, I clearly tried my hand at sandboarding = sand dune surfing with a lot of enthusiasm !
Frankly I did a lot of trouble and the sensations are pretty cool . It is what stings, it is that it is necessary to go up the dune on foot each time. After 4/5 descents and therefore climbs… it literally dries you up. You are only waiting for one thing: your hot and sweet mint tea when you get back to the camp. Because tea, you're going to drink a lot, really a lot. You better take a toothbrush with you. Considering the ton of sugar they put in them, it's best to wash them regularly if you don't want to end up with canyons instead of teeth. But it must be said their teas, they are so good that they are addicting!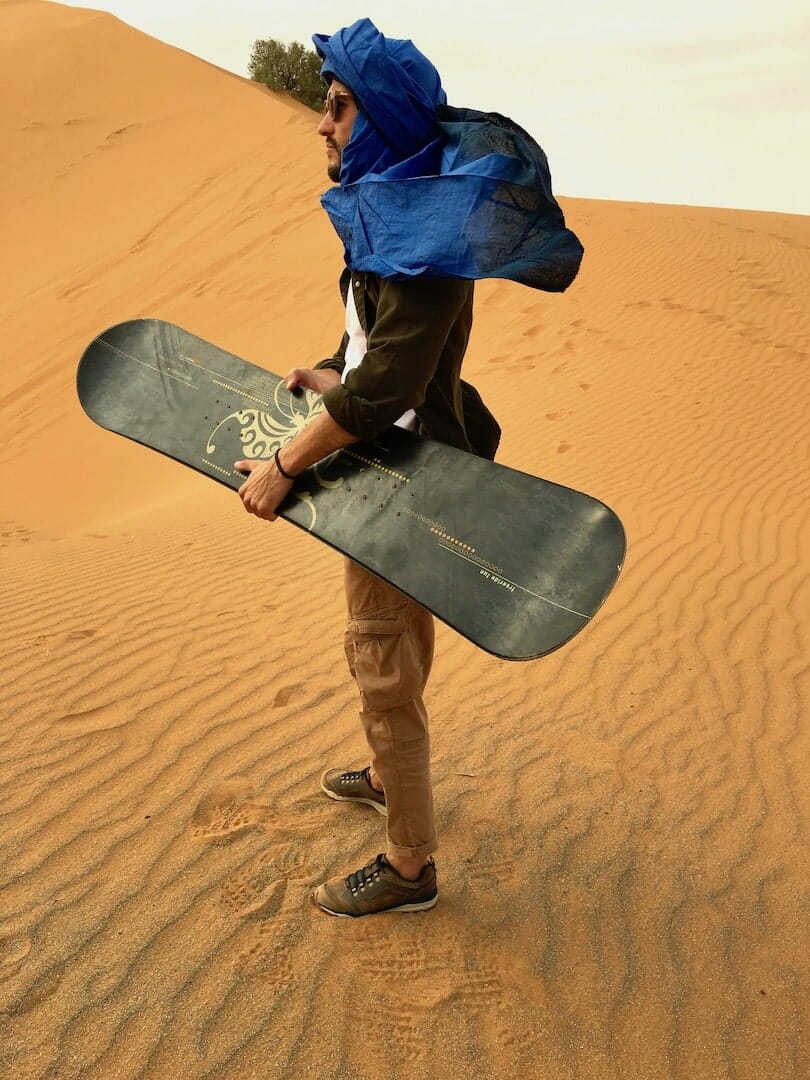 Day 4
Return to Errachidia
The drivers pack up the equipment, we go back in the 4 × 4 towards Errachidia. We're back on the track, I love the track! On the way back, we always have our eyes in the void except this time it is not by imagining what awaits us, it is that we replay the images of what we have just experienced. I love the trail.
Stop at Berber "nomads" for tea
The guides give us the pleasure of stopping at a Berber family in the middle of nowhere to have tea. Apparently the cousin of a cousin of a friend of the cousin to the driver. From the small terracotta and brick house, a man comes out and walks towards the large bivouac tent to welcome us in the shade for tea. He returned quickly to dress in his cheche and traditional clothes. As if he said to himself that it would make me happy to see a Berber in traditional dress. Personally, I have nothing against jogging bottoms but it's true that their djellabas, they clearly have class.
Night in Errachidia
After 2 days in the dust, enjoying a good Riad in an oasis to end your stay in style is a good idea! What is funny is that Riads in the desert have a bit of the same atmosphere as in the dunes, it's relaxed relaxed and rather soothing.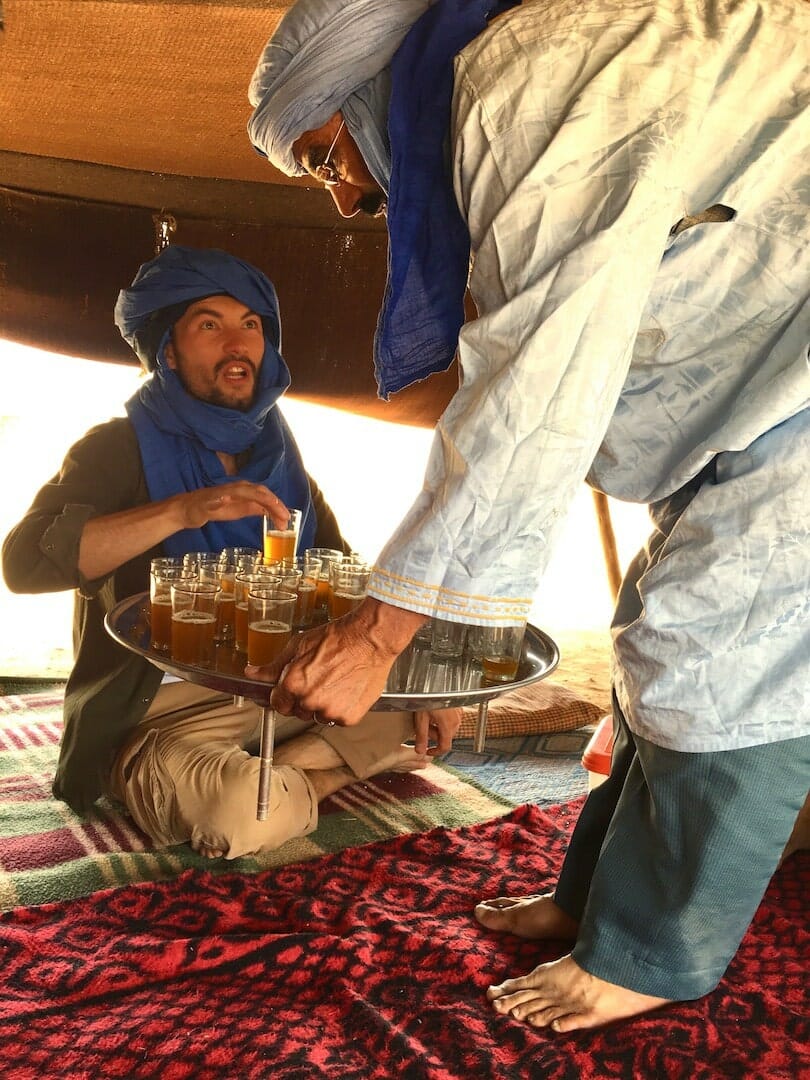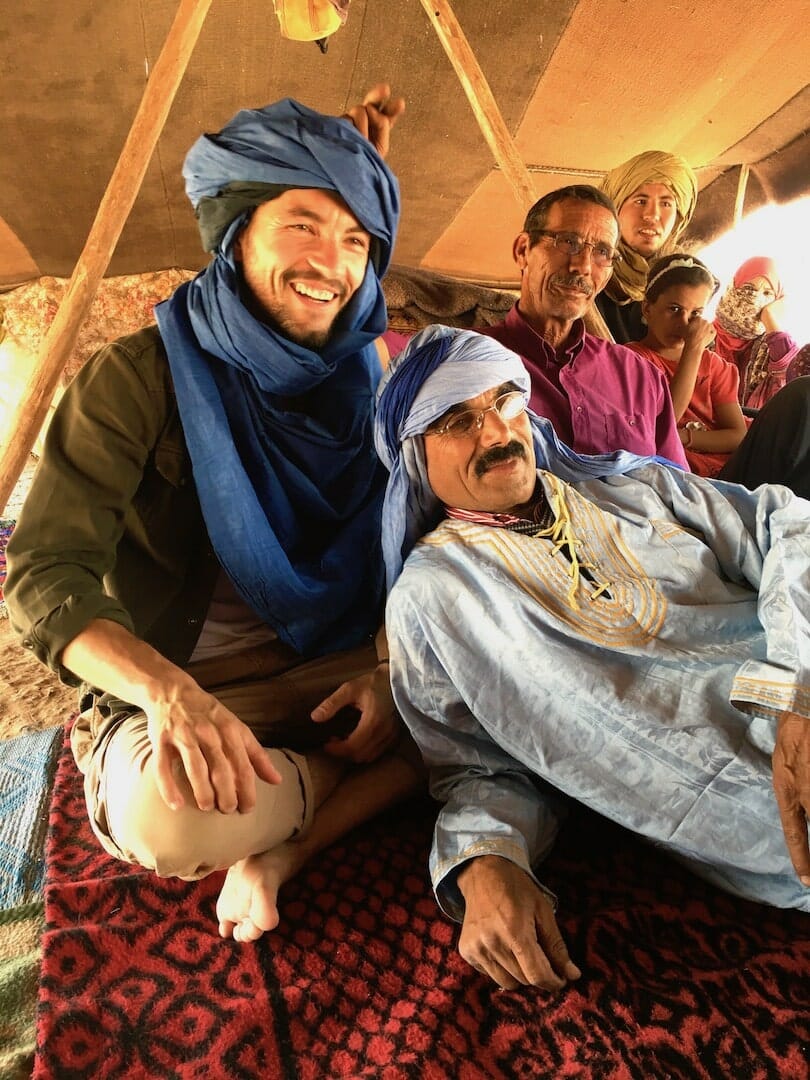 Day 5
Return flight Morocco -> France
Pretty impressive to think that in just five days from France (a long weekend in fact), you can go and experience such powerful, exotic things and get lost so far from home . In the idea, it reminds me m a hunting Northern Lights in Norway , I made a short week. It also seemed to me much longer when you see all that I have lived!
The advantage of being in the center of Europe is that ultimately quite close to home there are totally magical and truly different places . The Merzouga desert in southern Morocco is clearly one of them!